Enrollment Packets 7th-12th Grade are available on the school website:
www.talihina.k12.ok.us/
explore/documents/Enrollment Packets 7th-12th Grade

Reminder that Summer workouts started back up Monday, 7/27 at 7 am

Summer workouts start back up n morning at 7 am

Summer workouts start back up in the morning at 7 am


Enrollment for 7th thru 12th grades will begin July 20th. Mon-Thurs 9 am to 2 pm. You can pick up a packet outside of the High School office. There will be a drop box as well during those times to drop your packet off after completion. Enrollment packets need to be completed and turned in before August 1st. If you want a packet emailed to you, please email
tgbuchanan@talihina.k12.ok.us
with your child's name and grade and a packet will be emailed to you. A message regarding online enrollment will be sent next weekend.

Seniors: Diplomas and graduation day picture are now ready to be picked up. Can pick up in HS office from 9-2 weds and Thurs of this week. If you have borrowed a cap and gown, bring it with you to return to Miss Theresa. Also, the following students owe library books and must return them: Allyssa Cochran, Katie Cleary, Kadyn Dyson, Jarron Martindale, Conner Pierce, Corbin Walker.

Anytime while school is closed, if you can not reach Miss Theresa in the JH/HS office, you can call or text her at 405 606 9702

Jr. High/Sr. High login in information:
https://login.edmentum.com
Account Login: tlhna username: first initial and last name password: lunch number

Even if you applied and where denied, or if your job status has changed due to the ongoing coronavirus pandemic, please re-apply. Due to the ongoing pandemic, EBT benefits through this program, have been approved to start on May 1, 2020. PDF Version at:
https://5il.co/ejcv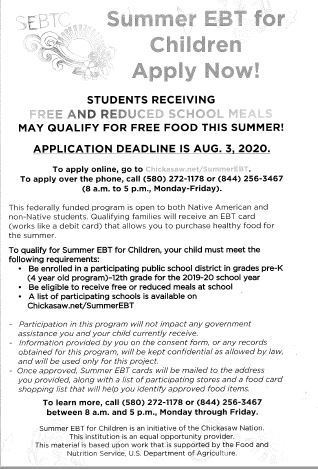 According to the State Department of Education, indoor school facilities are not allowed for group use of any kind during the mandated school closure.

Parents/Community members In compliance with Section 1111(b)(2)(H) of ESSA Talihina School has chosen the ACT as Okla. College & Career Readiness OSTP test for Jr.'s in lieu of state assessment to meet graduation requirements. Questions on the decision please call 9185672259x113